Vacation in Colombia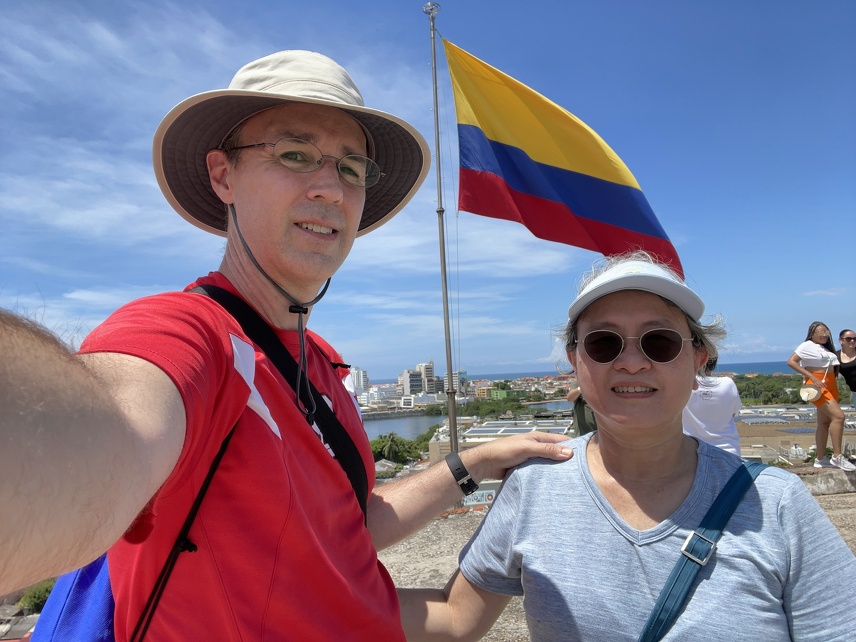 In October 2023, we traveled to Medellín, Cartagena and Guatapé.
More news:
---
2023-02 - Trip to Malaysia
After our 2020 trip to Malaysia was canceled due to COVID, we were finally able to schedule a visit three years later to see family. Foong-Ha spent three weeks there, and I joined her for the last bit. We visited Melaka, and spent a lot of time with my in-laws. See photos.
---
2018-06-24 - Violin recital
In January, I started taking violin lessons. My first semester of classes is over, and I had a recital in June. I played the Minuet from Suite in G Minor (BWV 822) by Bach.
---
2017-02-19 - Upgraded 2017 NERD-mobile
My old Mazda 3s finally pooped out, so it was time to get a new car. I decided to go electric -- with a built-in "plan B" for long haul days. My new Chevy Volt has a 50-mile electric range, perfect for commuting to work. But it also has a gasoline engine for longer trips.
---
2016-09-19 - New job at BitSight
I wish my fellow Lancopians well at Cisco, but I prefer the faster pace of a start-up. In September, I moved to BitSight, a Boston-based network security company with a satellite office in downtown Raleigh. I will start by working on their existing SaaS product, doing web front end and back end development.
---
2016-08-15 - London and Paris
After years of traveling to Asia, the Porter family finally headed the other direction, to Europe! We spent a week in London and a week in Paris. See photos.
---
2016-01-01 - Cisco acquires Lancope
It seems like just last year that we went through a big corporate acquisition at Tekelec. Now Lancope is becoming part of Cisco. It's a good match, since Cisco has been selling Lancope gear for years. We'll see how it plays out for our cloud group within Lancope.
---
2014-12-15 - New Year, New "cloud" job at Lancope
After eight years at Tekelec/Oracle and their DSR product, it's time to work on something new. In 2015, I will start building a new cloud-based service for Lancope, a network security company.
---
2014-10-04 - Ukulele star
I started playing the ukulele in August. A few weeks later, I played a simple song on a stage at the IBMA World of Bluegrass festival. Full story.
---
2014-07-16 - Vacation in Philadelphia and Boston
Our family drove to Philadelphia and Boston for a week of historical sight-seeing and exploration. See photos.
---
2013-09-02 - Beijing
My work sent me to Beijing for a week. Getting there was an adventure, and staying there was a real treat. Photos and commentary.
---
2013-08-01 - Oracle buys Tekelec
Overnight, we all switched from being the Blue team to the Red team.
---
2012-12-02 - Three Wishes for a Meaningful Life
My latest iPhone app in now available in the App Store..
---
---
2012-06-16,30 - Maker Faire & TechShop Open House
The NC Nearspace team launched two more balloon to over 80,000 feet. This time, we captured video and detailed position data. We also flew some simple "experiments" (including a Lego man to pilot the flight). Both balloons were recovered safely, in the towns of Raeford and Zebulon.
---
2011-12 - Hong Kong, Malaysia & China
We visited Foong's family in Hong Kong, Malaysia & China. Photos of Hong Kong and Malaysia and commentary.
---
2011-09-14 - President Barack Obama at NCSU
Audrey and I got to see President Obama speak about his new American Jobs Act at NC State University. Photos here.
---
2011-08-26 - Our dog, Maggie
Maggie lived with our family for 16 years. She passed away on August 26th. Remembrance & photos.
---
2011-04-22 - Vacation in Hawaii
Our family spent a week in Oahu, exploring Waikiki Beach, Honolulu, and the rest of the island. My parents went with us. You can read more here. Photos here.
---
2011-02-06 - Podcast
Sydney and I made a podcast to invite our Indian Princess tribe to the meeting at our house. Podcast XML feed here. Direct MP3 links for episode 1 (2009) and episode 2 (2011).
---
2010-12-17 - Our Newest US Citizen
After 16 years of being a permanent resident, Foong applied for her US citizenship. After a couple of interviews and a fairly basic civics test, she took the oath and became an American.
---
2010-10-13 - SUDOER
I was not the First in Flight, but I am a sudoer.
---
2010-09-26 - NCNearSpace
Some of my friends launched a helium balloon up to 100,000+ feet, and I helped them with their tracking system. In the process, I also tinkered with ham radio APRS location tracking. On launch day, I rode with the chase team, and helped find the balloon in the woods near a cow farm. Read more about it on my blog. See photos.
---
2009-12-04 - My first iPhone app
My first iPhone app, Tipster, was published on the Apple app store.
---
2009-10-07 - Hack-In-The-Box
While we were in Malaysia, I attended the "Hack In The Box" Security Conference in Kuala Lumpur. It was all good fun: hacking the cloud, wireless snooping, Blackberry spyware, lock-picking, the Russian black market, and more.
---
2009-09-27 - Three weeks in Malaysia
We spent three weeks in Malaysia, Singapore and Hong Kong. We visited friends and family, saw a few sights, and even rode an elephant.
---
2009-07-11 - iPhone
I finally decided that I was "cool enough" to own an iPhone. Or maybe iPhones are now geeky enough that I can own one.
---
Older Stories