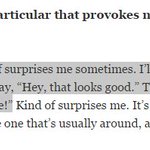 pomodrunkard I love this quote from Apollo 11 astronaut Michael Collins so much. pic.twitter.com/7zMh0gkG8J
Laptop now has subvolumes on btrfs on LVM on LUKS… as it should be!
Better… now we're mostly sunny… or is that moony? pic.twitter.com/UM5nGrSeg2
Sunny conditions with a wind chill of 99°.pic.twitter.com/4UjYg797vFF
Learning how to edit videos using Blender.