RT @CT_Bergstrom: "Never play chess with a pigeon.
The pigeon just knocks all the pieces over.
Then shits all over the board.
Then struts a…
Would it be too much ask for debate moderators to mute the mic of the guy who's NOT currently answering a question?… https://t.co/K88ccOh10h
Yummy assonance this morning: Jumbo Pumpkin Muffin
My number one goal for #2020 is to avoid catching COVID… and to avoid giving it to someone else.
We're not even halfway through September, and I've hit my 365 mile running goal for the year!
Tonight, I ran the Fit Cary Virtual 5K Run in 29m55s. #FITCARYMONTH
@NYGovCuomo The way 2020 has been going… I expect we'll soon see fake ballot drop boxes appearing across the state.
It's September, y'all. We can stop putting the word "virtual" in front of every meeting. By now, we know they're… https://t.co/smYFMiLqrh
The Useful Idiot | HuffPost

Trump did not anoint himself president. That was the work of those 63 million American… https://t.co/JYQgDHH9FV
From CNN: "We've done a great job in Covid but we don't get the credit," Trump said on Fox News on Monday.

Every d… https://t.co/jvQ4rmhn79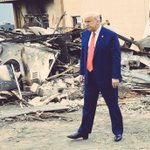 Will_Bunch Name this classic album cover pic.twitter.com/UEicoiAxTf
Election day is coming up. We have a choice between THEM and HIM. You know who THEY are and you know who HE is.… https://t.co/Ak2G5DPNbl